The International Virtual Air Show and Flying Competition moves to North America for its second event.
Set at KNUQ Moffett Field, south of San Francisco, the competition features new challenges and new excitement.


June 17th, 3pm EST to 11pm EST.

Scenery, Aircraft and TeamSpeak required - see below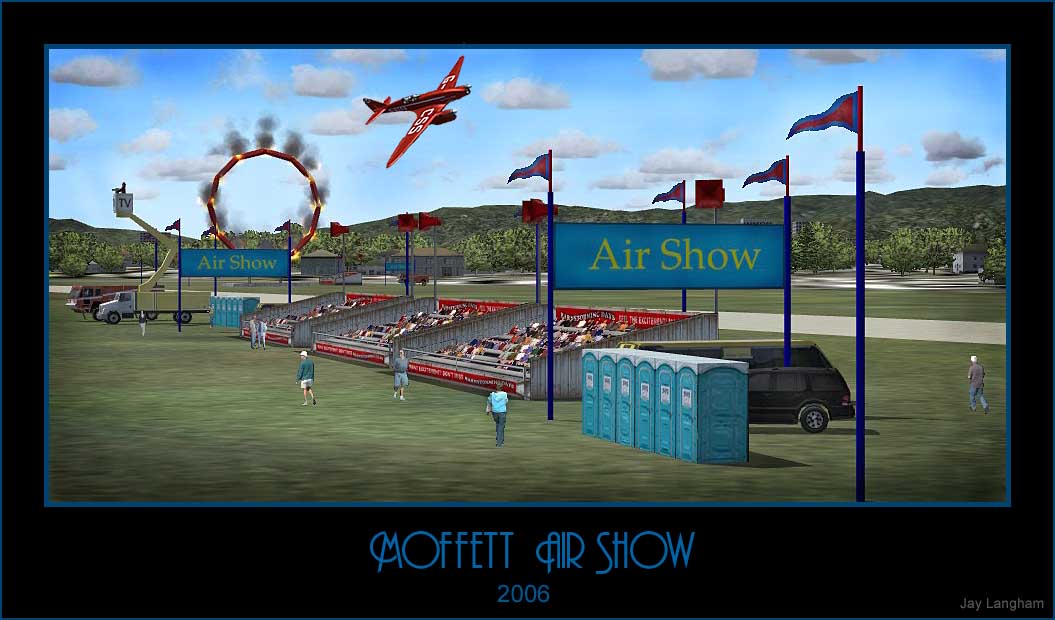 FS2004, Airport: KNUQ Moffett Field, south of San Francisco
Server & Team Speak IP: 68.44.228.35
June 17th, 3pm EST to 11pm EST.
Meet, Compete, or just Watch and Have Fun!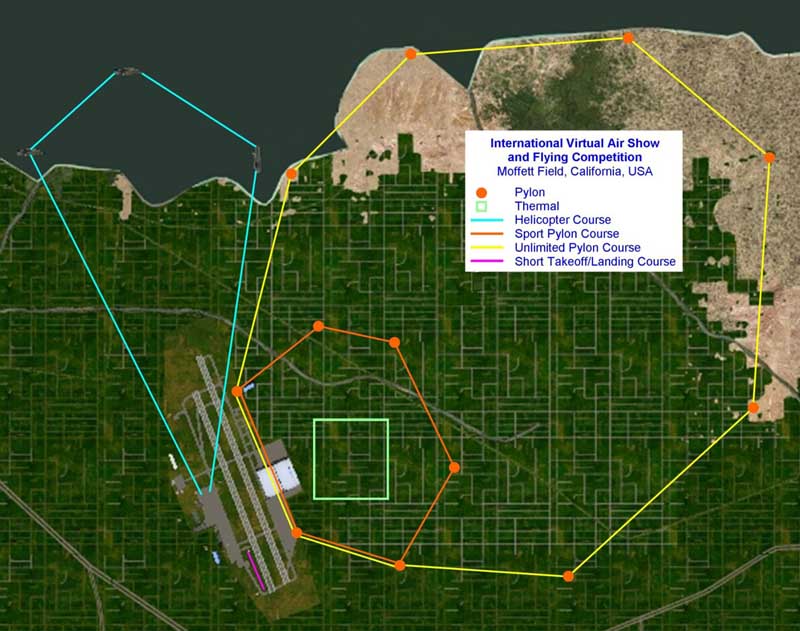 Cross Country Course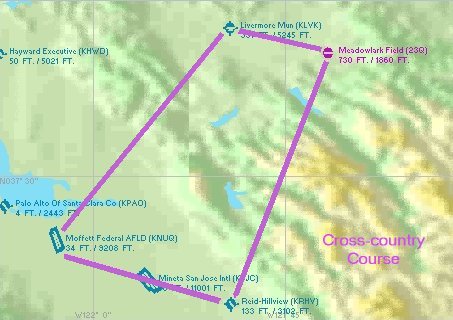 Show Times: UTC: 1900 Saturday to 0300 Sunday.
New York: 3pm to 11pm Saturday. London: 8pm Saturday to 4am Sunday. Los Angeles: Noon to 8pm Saturday. Brisbane: 5am to 1pm Sunday.

Schedule of Events (All times Pacific.)

Cross-country Races: 12:30, 2:30, 4:30, 6:30.
Sport Pylon Races: 10 minutes past the hour.
Unlimited Pylon Races: 40 minutes past the hour.
Helicopter Races: 1:00, 3:00, 5:00, 7:00.
Thermal Races: 1:30, 3:30, 5:30, 7:30.
Short takeoff and short landing competitions will be held throughout the day.
Additional events will be scheduled to meet demand. All times subject to change.

NEW ! Demonstrations will include the West Coast Demo Team performing in their A-10, FA-18, and C-17. To see these aircraft you will need these files. Simply drop the folders into your FS9 Aircraft folder (renaming if necessary to avoid conflicts).
Also new addition I3D_B1B_Lancer.zip
Event Information

Cross-country Races

Aircraft: Beech Baron
KNUQ to KLVK to 23Q to KRHV to KNUQ. Start on runway 32R. Land at each airport in turn, slowing below 60 knots, at which point FSHost will send a prompt to fly to the next field. Winner is first to land and slow below 60 knots back at KNUQ.

Sport Pylon Races

Aircraft: Extra 300, Sukhoi Su-31
5 laps from standing start at threshold of Runway 14L. Finish line is between pylons at upwind end of Runway 14L.

Unlimited Pylon Races

Aircraft: David Copley's Lockheed P-38L Racers (available at www.kazoku.org/xp-38n/model/index.htm), and David Hanvey's Hawker Sea Fury racers G-FURY and Miss Merced.
5 laps from standing start at threshold of Runway 14L. Finish line is between pylons at upwind end of Runway 14

Helicopter Races

Aircraft: Bell JetRanger
Takeoff from ramp area. Fly counter-clockwise, touching down on each carrier in turn and returning to ramp.

Thermal Races

Aircraft Schweizer 2-32
Slew to 800 feet in thermal. Exit Slew and race to 3800 feet. [ How To ]

Short Takeoff Competition

Aircraft: Cessna 172
Multiple attempts allowed. Save at a position on the ramp. Taxi into line and take your turn. After takeoff, make a right-hand pattern to 14R, land, and rejoin line.

Short Landing Competition

Aircraft: Cessna 172
Multiple attempts allowed. Fly holding pattern over the freeway SW of the field. Save in the holding pattern. Take your turn. Take off 32L and return to hold.

For further information contact Ian Radcliffe at ianhradcliffe@cox.net.

There are no prizes, just good flying fun. Please do not use modified aircraft to get an unfair advantage over the other players.
Each event will be run a number of times and will be called by ATC on TeamSpeak based on number of players wishing to compete.

Aircraft:The Sukhoi 31 is an optional plane for the Sport Pylon races. Itís easier to fly than the Extra and, with repaints, comes in nine different color schemes. You will need these to see others flying the Sukhoi Download Here

Scenery: The Scenery File KNUQshow.zip is required so that you can see the objects for the Events Download Here.
Install and check the scenery before the show.

Teamspeak: Activities and ATC will be on TeamSpeak IP: 68:44:228:35

Join on Ramps, NOT on runways. Or fly in from adjacent airfields. Contact Control on TeamSpeak for pattern entry instructions. Once connected: stay within spectator areas unless competing or marshalling.

Setup:

Make sure your Frame Rate is locked at 20fps or lower.
Set Autogen scenery density at Normal or below. The area around Moffett has lots of trees and buildings. This setting will reduce framerate impact and make the pylons easier to see.
Crashes and Damage: Should be turned ON
Stress Damage and Collision: Must be turned OFF for multiplayer
Weather: Clear weather will be provided by the server. Do not use Real Weather
Aircraft Loading: Configure your aircraft payload and fuel for optimum performance.

We wish to thank everyone who participated in the previous show as everyone had a good time.
Please check the Photo Album for screen captures and stay tuned for latest information.

Send us your feedback! Comments on past shows, suggestions for future shows [Click Here]

- - - - Credits - - - -
Air Show Coordinator - Ian Radcliffe (G_BIAN)
Graphics and Scenery - Jay Langham