This article appeared in the Asbury Park Press, October 13, 1982
Of interest is the "layman's" approach in the article to the strange new world of home computers.
Also the equipment in the forground of the photo is the development prototype of the Grayhound line of video games.
---
County club concentrates on computers
By ELEANOR O'SULLIVAN - Press Staff Writer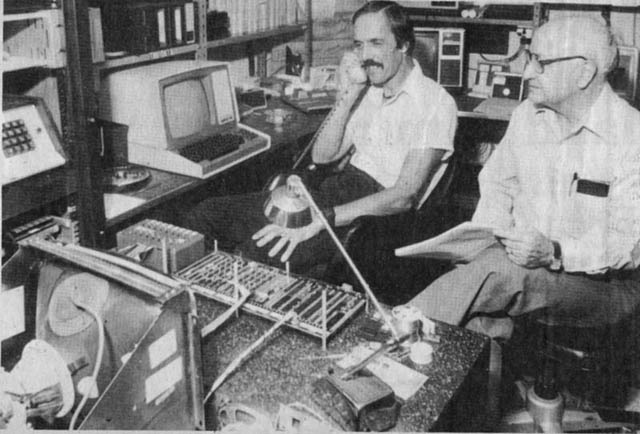 Robert Holland (left) of Dover Township, a member of the Computer Club of Ocean County,
shows computer hardware in his basement to club vice president Walter Gabriel of Toms River.
There's a whole little world out there that many of us know nothing about.

It's the world of micro-computers, a growing extracurricular interest for many people who think computers are fun and challenging.

Gerry Wagner and Walter Gabriel of Toms River are so devoted to the pursuit of knowing more about computers that they formed the Computer Club of Ocean County.

The club had its first meeting in August at the Dover Township Municipal Building. It has a roster of 25 members, with at least six more expected to join shortly, Gabriel said. Meetings are held once a month on a Friday.

The club's purpose, said Gabriel, is to promote the use of micro-computer technology and to disseminate information about the technology. It's a nonprofit club, open to anyone interested in electronic computers.

"WE HAVE three elementary school students in the club, as well as a materals engineer, a chemist who's a member of the Asbury Park Board of Education, an assistant analyst for AT&T and a metallurgist," Gabriel said.

Gabriel was the head of computer programming at the Naval Air Engineering Center, Lakehurst, and is now retired. Like 21 other members, Gabriel has a home computer, complete with printer.

"One of our members has a basement full of computer equipment. Some of the members heard about the 'formation of the club through newspaper ads, word-of-mouth and mailings, but others heard about it through an electronic bulletin board. That's a home computer you can dial into by telephone line and ask to print out messages."

At the two meetings the club has held so far, members have exchanged computer experiences and expertise. When Gabriel's home computer broke down, he called another member who was able to locate the problem and repair the machine.

"WE WANT our meetings to have diversity. Members give five minute profiles of themselves and describe what they do with microcomputers. We're having a husband and wife team talk at our next meeting. He runs his own computer company and she's a senior member of the computer staff at AT&T."

New developments in the computer field are discussed and periodicals are circulated.

"We've discovered that there are many magazines available about the field. Radio Shack alone publishes six magazines about their computer products."

At the end of each meeting, coffee is served and members compare notes about computers. Gabriel said membership dues are $9 per year, or $5 for those who join after January.

Membership dues pay for a quarterly newsletter, postage and coffee costs. Dover Township does not charge the club a fee for use of the meeting room.

"WE'RE NOT a commercial club by any means, but we do plan to have seminars and workshops in the future. I don't think you measure a club by the quantity of activities but the quality of the exchanges.

"Because of the diversified backgrounds of our members, we feel we have a good mix of people who have solid information to impart. We'd like to increase our membership. I understand the room can hold 60 comfortably."