Pilot Breifing
Amelia Earhart's Global Flight Attempt



It's long, it's slow and it can be boreing but many have asked for it, so here it is.

You can catch up on your history and download Amelia Earhart's Last Flight Lockheed Electra L-10E at http://members.lycos.co.uk/Berlin_flightsim. If it's not available then you can get it here in our aircraft downloads.
Unfortunatly this model does not have the extra 1000 gallon fuel tank to extend the range even though it does have the windows blocked off to show that it is there.
You will need to change the fuel flow in the aircraft.cfg file to get the needed range. fuel_flow_scalar= 0.4

Please fly the route with Amelia's L-10E only. This is for serious pilots only so free flying is not allowed. You may only fly with others if they are on the same hop as you or if you have completed the hops.

The trip failed when they were not able to find Howland Island in the Pacific. No wonder, I couldn't find it either. It's in FS but the island is now deserted and is just an undefined fly speck in the ocean.
If you want to finish the trip, you need to get howland.zip from AvSim or Surclaro. This will add the scenery, runways and an NDB as it was in 1937. This also makes it a little too easy as it will show up on the GPS.

NEW! - More scenery for Howland Island - Howland-2.zip - Not required but it's fun.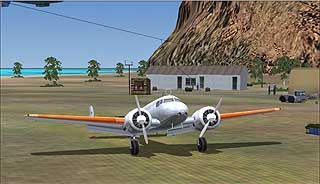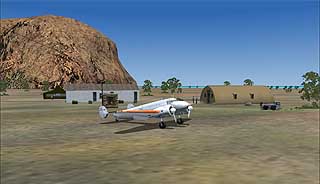 Please check your scenery before you try to fly to Howland Island. Slew to: N 0,48.08 - W 176,38.18
If the airfield is not there then you will have no place to land and you will surely join Amelia and Fred in a very deep watery grave.
FSNav Flight plan earhart.fsn (you may have to Right-Click, save link target and fix the name)
FlyBoyJim_5 Arrives at Howland Island with Iceman_Ace close behind
Here Jim is loading up for the next long hop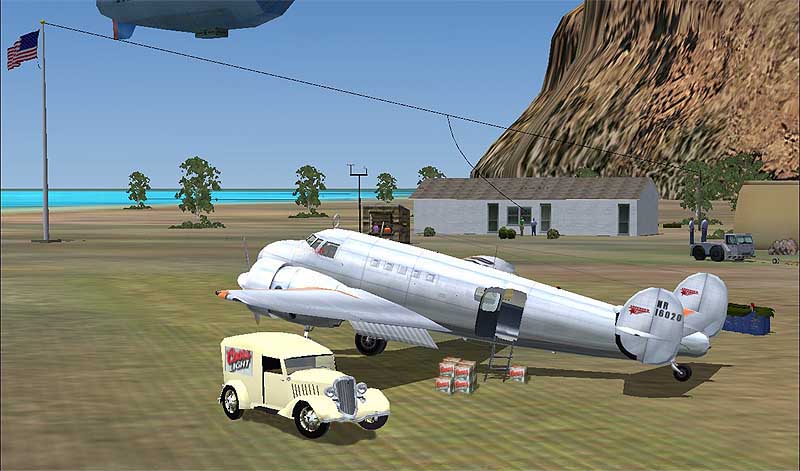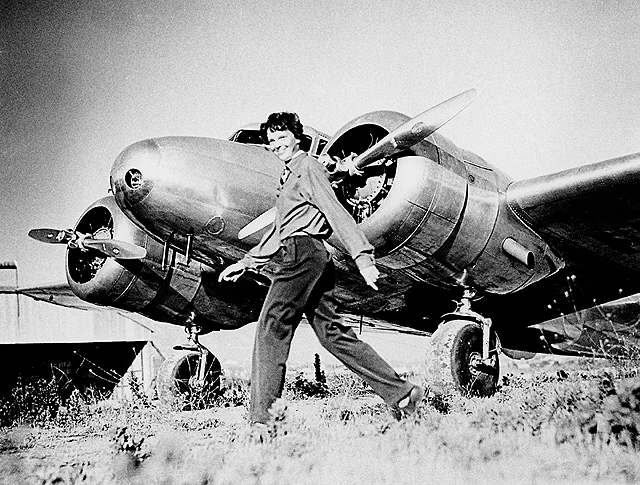 INFORMATION: Pioneering Woman Aviator, Lost on Flight over the Pacific


The world's most famous female aviator disappeared in 1937, as she attempted to become the first woman to fly around the world. With her navigator, Fred Noonan, her Lockheed Electra was last heard from about 100 miles from the tiny Pacific atoll, Howland Island on July 2, 1937. President Roosevelt authorized an immediate search; no trace was ever found.Over the years, the disappearance of Amelia Earhart has spawned almost as many conspiracy theories as the Lindbergh Kidnapping and the Kennedy Assasination.

Her first attempt at the world flight began on March 17, 1937, in Oakland, California, but ended abruptly with a runway crash in Honolulu, Hawaii, after a tire blew and a shock absorber on the landing gear failed. Earhart decided to repair the damaged plane and try again.

Disappearance Speculation:


Ironically Amelia Earhart has become more famous for disappearing than for her many real aviation achievements. It sparked a whole cottage industry of conspiracy theorists and "researchers." There are two main themes to these ideas. One, her around-the-world flight was a cover for a spy mission, commissioned by President Roosevelt to determine what the Japanese were up to in the Pacific. Two, she and Fred Noonan weren't simply swallowed up by the vast Pacific Ocean, but were captured by the Japanese. Obviously these two main themes work well in combination.

No evidence has ever been found to support either one of these ideas.